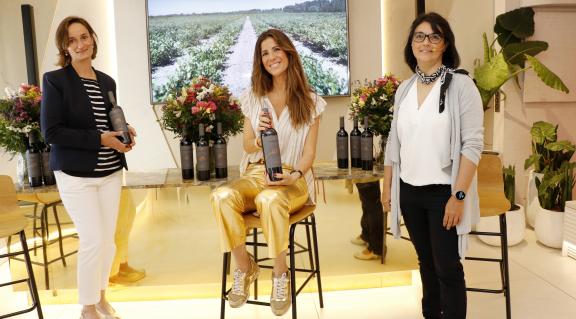 DOMINIO FOURNIER RESERVA LAUNCHED AT CASA DECOR
Publicada el 08.06.2021
Dominio Fournier Reserva was launched at Casa Decor 2021 on 27th May, in a space specially selected for the purpose: the main auditorium. The Mexican-inspired setting was designed by architects COMAD Arquitectos, and featured an exquisite display of Mexican art, brought to Spain by the Must Wanted Group.
We were delighted that two of our winemakers, Marian Santamaría and Laura Terrazas were able to join us at the event, along with the team from COMAD Arquitectos, Beatriz Enríquez Amo and Teresa Enríquez Amo. Marian and Laura talked about the unique features of this artisan produced Reserva, made from our own grapes and aged for 18 months in new French oak barrels. A Reserva from the heart of the D.O. Ribera del Duero, it has an extraordinarily intense flavour that is the result of good work and attention to detail.
They also highlighted what the work in the vineyards and the work involved in designing the auditorium have in common. Both require constancy, effort, and passion, but the result is worth the effort. The communalities were such that they even remarked on the similarity between the meandering lines of the course of the river Duero, the area that is home to Dominio Fournier, and the ceiling that had been designed for this space, with curves and materials offering different textures, such as river pebbles.
The guest journalists took part in the conversation, which was relaxed and friendly, the perfect close to an unforgettable event for Dominio Fournier.
Volver a noticias