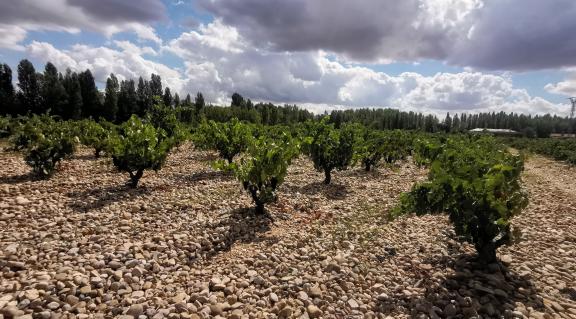 The 2021 harvest in Dominio Fournier
Publicada el 25.11.2021
Every harvest marks a new beginning. The winery springs into life, driven by the anticipation of repeating an experience much like the very first ones: butterflies in the stomach, plans, excitement etc…All with the hope that the new wines will express the work and dedication that have built up over the year.
We are leaving behind a year that began with storm Filomena, which chilled us to the bone for several weeks with extremely low temperatures of -15oC in our vineyards. So we can't say that our vines are not resistant to the cold…
With the arrival of spring, the main feature during budburst was the rain and later, in July, the heaviest rain ever fell. Thanks to the nature of the soil, which hardly retains water at all and drains exceptionally easily, these circumstances did not have too much of an effect on our vines' growing cycle.
A mild summer followed, which meant the plants were able to grow without any blockages, producing the right amounts of photoassimilates that in turn boosted what the experts refer to as "advanced polyphenolic maturity". When the grapes reach this state, they have accumulated a good amount of the molecules that are responsible for the wine's colour, structure and longevity. 2021 wines are thus displaying great balance, strength and elegance and are already starting their barrel-ageing.
Wine is one of the few products that can encapsulate a summary of the growing year in every vintage. This is why we like it so much and it strikes us as so extraordinary.
All of the above may sound easy but involves co-ordinated work by many different people, a great team consisting of pickers, tractor drivers, selectors, winery staff, laboratory technicians and office staff. A huge orchestra that must organise itself, work in shifts and eventually, as a result of the hard work, collaboration, problems solved and food shared at unearthly hours, works as one.
It is always exciting to receive a new vintage, not just because it is the only opportunity we have in the year to build up our stock of wines but because the process always delivers great experiences. It helps us grow, understand and, therefore, put together and tell our story in terms of what we are, what we do and what we aspire to.
Or wines are made for sharing, that is why we get excited about them. It may seem overly poetic, but a new vintage is the promise that makes us dream about that occasion when we will be sharing again with the people we love, celebrating a reunion, an achievement…
This is one of the things that drive us and is what we hope this 2021 wine will deliver. We hope you all find good reasons to open a bottle and raise a glass of Dominio Fournier.
Cheers!
Volver a noticias